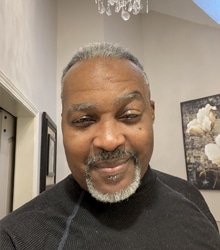 Branch: United States Army National Guards
Service Branch Role(s): 19E – M60-A3 Tank Commander, 88M – Light/Medium/Heavy Truck – Transportation – Platoon Sergeant, Mobile Conduct of Fire (MCOF) Trainer – This is a 2.3-million-dollar Tank simulator fitted into an oversized semi-trailer. I was one of 5 individuals certified in the State of Kansas to operate this massive computer/Tank simulator. We trained an entire battalion on Tank Commander/Tank Gunner cohesion in less than a year.
Current Civilian Role(s) (ITC): Installation Supervisor (Kansas City, MO)
Favorite Duty Station (Perm or TDY): Fort Knox, Ky – Boot Camp/AIT, Fort Riley, Ks – Multi-Purpose Range Complex (MPRC) used for Tank Gunnery training during annual training.
Favorite Memorable Service Moment: Through clear communication, attention to detail and authentic team unity, I lead a Tank Crew of 4 personnel (Tank Commander, Gunner, Loader and Driver) to 2nd Place honors at Tank Gunnery. These were the results after an entire Battalion of tanks competed in a live fire (stationary and moving target) competition in Fort Riley, Ks.
Best Battle Buddy: Dennis (Mountain man) Britton. I once saw him pick up a rattlesnake and chase a badger while we were in the field training. You want this man by your side in any situation.
One Military Lifelong Lesson: The importance of clear and detailed Communication, Integrity, Team Unity and Respect for all. Oh yes, "Always remain flexible" 😊
Personal Interest: Have always loved to play basketball, I enjoy life Biographies, I'm a huge family man, mentoring young men about life in general.